Amazing Elie Saab furniture replica from China – Order review
Our client, a big fan of the Elie Saab furniture collection, bought a new house in Bridgetown, Barbados, she bought the main furniture locally and wanted to order the rest of furniture and decoration from China along with a custom made Chandelier.
Like most of our customers, she wanted to make some designer furniture from her favorite furniture brands,specially, from the Elie Saab furniture collection. We're going to cover some of the most iconic furniture that she purchased.
1- The Elie Saab Nightstands
The ArtDeco style Elie Saab Maison Nabuk Marble Essence Nightstand, is 52 Cm in Height,75 Cv in width and 52Cm in Depth, the factory that made it in China said that it's the biggest nightstand they ever made.
Sabiha wanted to customize it a little by changing the Nubuk leather to polyurethane leather (PU) or artificial leather, she also had the color changed to light gray. Materials that were used to make the bedside tables were: Brass, Carrara marble, leather and plywood. The Production took less than 20 days where the original would take 15 weeks to be made. The made in Italy original piece of furniture would cost a small fortune, around 15,000 US$ Vs in China it would only cost 1,500 US$ for two pieces. It's a pretty sweet deal we'd say.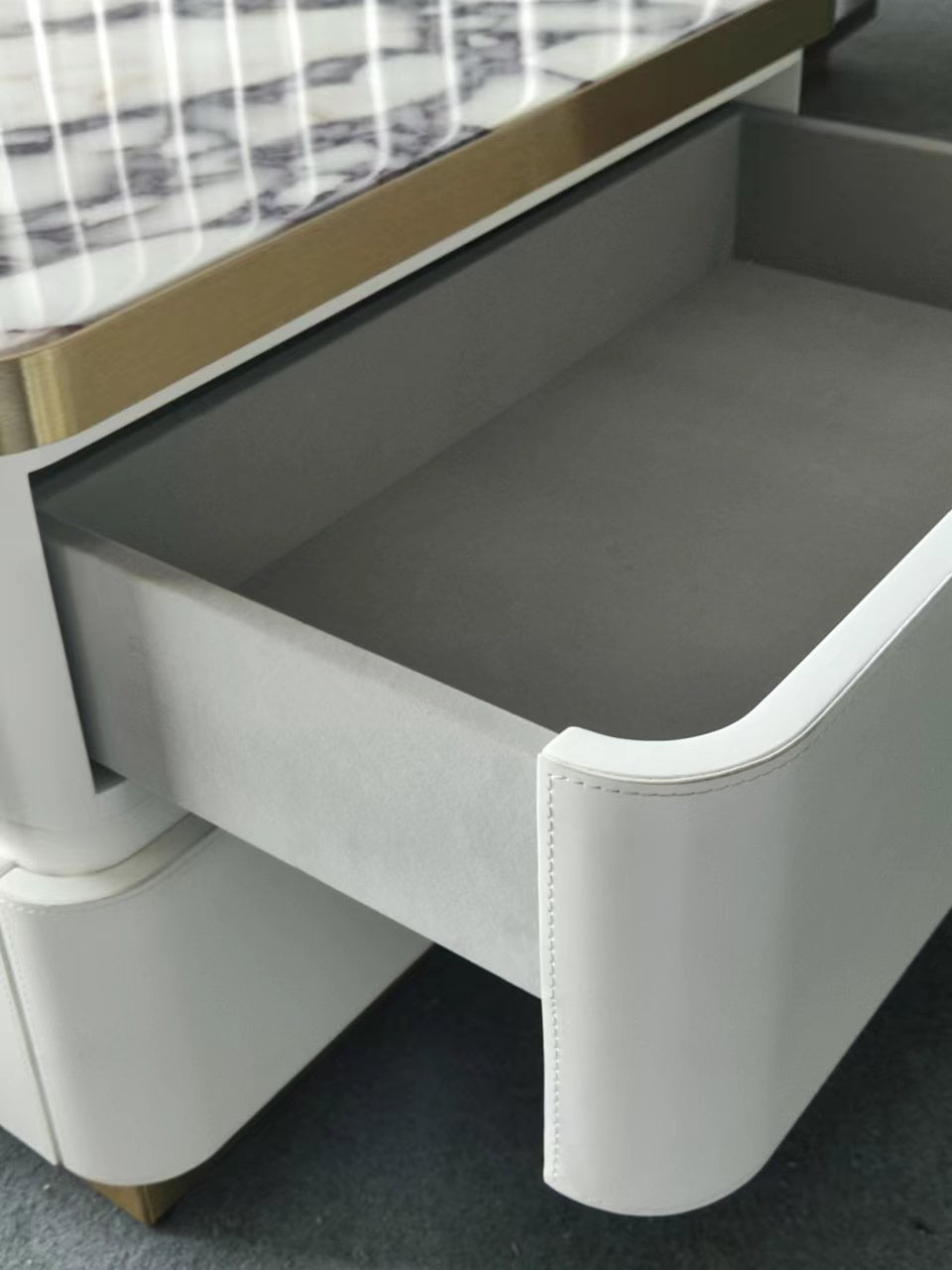 2-The Clark Ebody coffee table
Made in Solid Ebony wood finish with polished steel frame in gold finish,
Dimensions : 40CM H x 100CM W x 100CM D
3- Fendi Casa Morris dining table.
Crafted with a wooden top separated by galvanized metal graffiti s, the design celebrates the classic pattern in all it's glory as sited by Harrods. Only wood and stainless steel were used to make this legendary table
Price in China 1,599 US$
4- Our favorite piece of furniture.
The Medea Bench luxury Sofa/daybed is definetely on the top 10 of our favorite furniture that we have made so far, it's simple, elegant, perfect for laying down and reading a good book or sharing an afternoon tea with family and friends or even better than tea, coffee.
5-French Art Deco design style in blue velvet and brass finishes counter stool.
Last but not least, this magnificent counter stool made of solid oak, steel and velvet is 68 CM high, 41 CM in Diameter was also custom made. Production took around 20 days. Price in China 600 US$ instead of 1,575 US$ per piece on 1stdibs.
Foshan has become a hub for furniture sourcing, contact us today and we will definitely what you need. Get in touch with us today for a free budget estimate.
Discover more