The best furniture markets in China
Furniture markets in Foshan, China The ultimate guide


Are you looking to buy furniture from China? In this guide, we will discuss the top 4 furniture shopping centers in Foshan. And explain why they should be on your go-to list when furniture shopping in China.
Foshan city is located in Southern China, in the Northern part of the pearl river. A stunning city made up of 5 districts.
Louvre Furniture Mall
in Chinese: 罗浮宫家居
With a total building area of 380,000 square meters. Founded in 2000 and located in Lecong, Guangdong, "China's Furniture Trading Capital". It gathers all the best Foshan furniture manufacturers in one place, more than 2,000 of China's top-class furniture brands including Liftmaster, Bolusi, Muni, Tianyi Meijia, Shangyu, Colorlife, and more than 200 top imported furniture brands from Europe including Fendi, Armani, Bentley, Baxter, and Giorgetti as well as 20 theme pavilions.
How to get to Louvre in Foshan?
Address Louvre International Furniture Exhibition Center Lecong Section of National Highway NO.325 Shunde District, Foshan City Guangdong Province, China.
By taxi :
From Foshan city centre to Louvre: an average taxi fare 35-60 RMB with travelling time 20-30 minutes (sometimes faster). We suggest this way better.
From the nearest metro station to Louvre: catch a taxi at KuiQi lu, exit C, average taxi fare 20-30 RMB.
Metro + bus: reach KuiQilu station, exit C. Take bus #255A from the bus stop right on the C exit, bus fare 3-4 RMB (remember you should pay the exact amount, drivers don't give change). It takes 15-20 minutes just let the driver see the address of your destination and he'll tell you when to get off.
What furniture can you buy in Louvre?
Louvre has plenty of domestic brands that many foreign clients would love. Some Chinese manufacturers are slowly switching from copying original designs to developing unique designs of their own by hiring designers from all over the world including talented Chinese specialists. China doesn't joke around, it's a masterpiece indeed.
Sunlink Furniture City, North District
What type of furniture can be found in this furniture market 
Office furniture, home office furniture, living room furniture, bedroom furniture, mahogany furniture.
OFFICE & HOTEL FURNITURE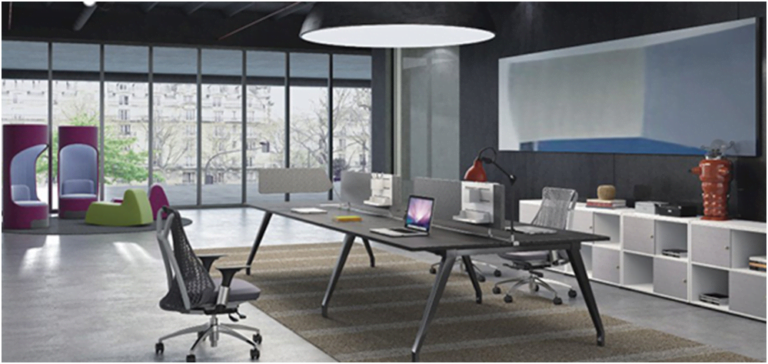 The series of office hotel furniture introduces and promotes the brand new concept of spacial demonstration in office and hotel furniture, presenting a smart environment to help buyers with one-stop and professional matching plans and services.
SOLID WOOD .NORDIC STYLE FURNITURE
Nordic solid wood furniture features its simple lining, fashion design and fresh style, which has become a favorable choice for younger buyers and led the trend of solid wood furniture in recent years
Price segment medium, low-budget, premium
Review
How to get to Sunlink, North?
Address NO.325 National Highway, Lecong, Shuande, Foshan, ChinaFor more info :
Sunlink Furniture City, South District
in Chinese: 顺联南区家具城
Sitting on a floor space of 20,000 square meters is Sunlink South, which opened back in 1989. The middle-level market has five procurement centers for:
● Sofas
● Hotel furniture
● Home Furniture
● Contemporary furniture
● European neo-classical furniture
Sunlink International sofa purchasing event, the exhibition thus arisen receives tens of thousands of domestic and foreign clients and customers for placing orders or purchasing each year, successfully setting up the internationally well-known sofa procurement trading platform. Keep in mind that Sunlink South identifies as a wholesale furniture market. For this reason, it's a more suitable market for wholesalers and distributors.
Furniture Categories: sofas, hotel furniture, home furniture, contemporary furniture, neoclassical furniture, and home accessories.
Address: Xinlong Section, 325 State Road, Lecong Town, Shunde District, Foshan City, Guangdong Province
Tel: 0757-29238113
Website: http://www.slsouth.com/
Business hours: 9 am-6 pm from Monday to Sunday.
Red Star Macalline International Furniture General Information
中国家具工厂500强批发基地
Lecong Red Star Macalline is a large furniture shopping mall owned by the Shanghai Red Star Macalline group. The wholesale center has a square footage of 120,000 and has been operational since 2009. To date, it offers an impressive 2000 plus brands of Chinese furniture. We're talking famous brands as well, including Cheers Sofa, Land bond furniture, Hennessy, and Zuoyou Furniture.
While it's also a high-end home furnishing store, it does not outdo Louvre. So of the two, Red Star Macalline is more affordable with a medium-high pricing level. With various products and styles on sale, chances are you will find you're ideal furniture here. The front part of the mall mainly deals with modern furniture, while the back section is European and American furniture.
Now, if you consider yourself a good negotiator, then we recommend visiting Lecong Red Star Macalline. Why? You can secure great bargains off quoted prices. We're talking 30% to 50%, maybe even 60%. But be cautious of sellers that inflate prices; it's never a bad idea to shop around.
What furniture can you buy in Macalline?
Home furniture, hotel furniture, office furniture, children's furniture, suite furniture.
How to go there?
Address: southeast corner of the intersection of Steel World Avenue and 121 Provincial Road, Shunde, Foshan, Guangdong, China.
For more info :
Tel: 0757-28366666
Website: https://www.chinaredstar.com/
Business hours: 9 am-6 pm from Monday to Sunday
Discover more