Interior Design Styles in 2023, Unique Furniture Pieces That Would Make You Happy
Interior Design Styles & Unique Furniture Pieces not only reflects our taste in design, but also our desired lifestyle. Trends often signal a change in how we want to live. Even though the interior design trends for 2023 will be practical, they will still please those with a strong appreciation for aesthetics.
Trending Interior Design Styles for 2023
Change is a constant in life, and we can always expect new and exciting things in the future. In 2023, we can look forward to innovative interior design trends that bring new and exciting elements. However, some current design styles will be refined and reinforced. Either way, we can expect to see spaces that are more beautiful and otherworldly than ever before.
Stay Ahead of the Game: Discover the Latest Interior Design Trends for 2023. From ever-evolving new styles to refined versions of current favorites, 2023 promises to bring exciting changes to the world of interior design. Get ready to see ethereal spaces take center stage
Unlock Your Design Potential: Take an Interior Design Style Quiz for 2023. Knowing the various styles of interior design trends for 2023 can help you identify the perfect match for your personal taste. Take a quiz now and discover your design style
1.Emphasis on Health and Wellness
The topic of wellness has gained a lot of attention in recent times. Taking care of oneself is a vital aspect of enhancing one's overall health, but the surroundings also play a significant role in promoting healthy living. Wellness design creates an ambiance that encourages mindfulness and allows individuals to perform at their best. As a result, we can expect to see an increase in the development of aesthetically pleasing and healthy living spaces in the near future.
2. Art Deco Encore
The trend of revisiting past styles is popular in the industry. As interior design shifts away from minimalism, there is a growing interest in more decorative styles such as Art Deco. However, it's not likely to see a return to hyper maximalism. Instead, we'll see a rise in ornate details, bolder colors, geometric patterns, and symmetrical elements in interior design trends. The Art Deco aesthetic is expected to make a comeback in the near future.
3. A workplace that exudes style and personality.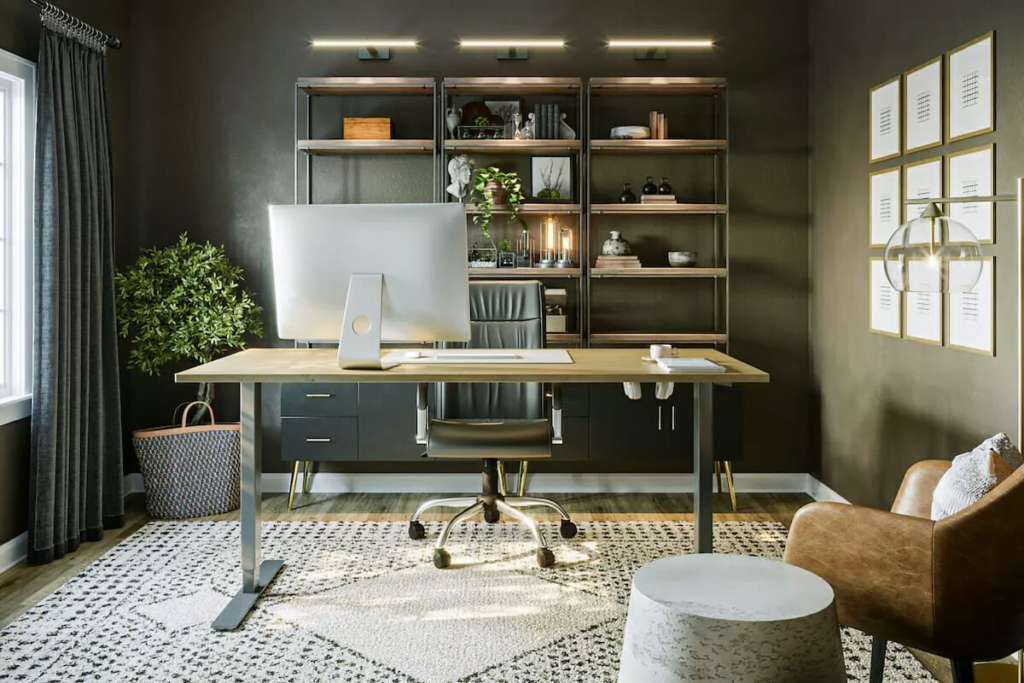 The concept of a workplace, whether it's in an office or at home, has undergone a transformation. Nowadays, workspaces are being designed with a lot of personalization in mind. Offices are incorporating features that make working more comfortable, such as unique furniture designs, specific layouts, and indoor turf. The goal of these changes is to increase the use and productivity of the workspace. And for people who are working from home, it means creating an interior that is tailored to their individual needs.
4.Increased capabilities for multiple tasks in the home.
The interior design trends in 2023 are expected to focus on creating homes that can be used for multiple purposes. Customized interiors will accommodate daily activities, as well as leisure and fitness activities. This is a response to the isolation caused by the pandemic. Therefore, there will likely be an increase in the number of high-end home theaters, gaming rooms, gyms and saunas.
5.Designer Laundry & Mudroom
5. Designer Laundry & M
Designers and homeowners are putting a lot of emphasis on creating homes that meet the needs of the people living in them. This is why every space, no matter how small or seemingly insignificant, is getting attention. Even spaces like mudrooms and laundry rooms are being given the designer touch. This means that the overall aesthetic of the home will be cohesive, from the entryway to the most functional areas. In 2023, interior design trends will be applied to every part of the home.
6.Utilizing as much natural light as possible.
As we learn more about what improves human well-being, we're seeing more of these elements incorporated into interior design. One such element is natural light. There's a renewed emphasis on maximizing the use of natural light in designs through the use of large, unadorned windows, light colors, and reflective surfaces. This is because natural light has been shown to improve sleep patterns, focus, and mood, and also helps the body produce vitamin D.
2023 Home Decor Trends & Unique Furniture Pieces
The upcoming year will feature designs with soft edges, striking accents, and comfortable furnishings. No matter your personal aesthetic, the home decor trends for 2023 will make interiors even more inviting.
7. Back to Noir
As interior design becomes more personalized and expressive, there is an increasing interest in using gothic design elements. This style is known for its dramatic, layered and interesting look, and often incorporates elements such as sweeping curtains, arch mirrors, sculptures, and extravagant chandeliers. With a modern twist, gothic interiors can be both striking and comfortable to live in. You can choose to add as much or as little drama as you want. Regardless, gothic style will make a strong impact, even if it doesn't include black.
8. A trend that incorporates elements of nostalgia in design.
Interior design has the unique ability to create a sense of comfort and warmth, as well as evoking feelings of nostalgia. In 2022, we saw a trend of coastal grandma style emerging in interior design, inspired by the sentimental emotions brought on by movies like Nancy Meyer. Similarly, in 2023, interior design and color trends will tap into nostalgia to create a charming and quaint atmosphere. Expect to see more pastoral patterns and rural-inspired artwork being used to add a poetic touch to interiors.
9. Yes to Curves
The use of curved shapes and designs in interiors has been on the rise in recent years, with crescent-shaped sofas, tulip and egg chairs, and circular rugs becoming increasingly popular. In 2023, this trend is set to evolve with the addition of oblong mirrors, rounded architectural details, and mushroom-shaped lighting fixtures. Additionally, furniture such as cabinets, credenzas, and nightstands are also expected to have more curved designs.
10. highlighting and emphasizing alcoves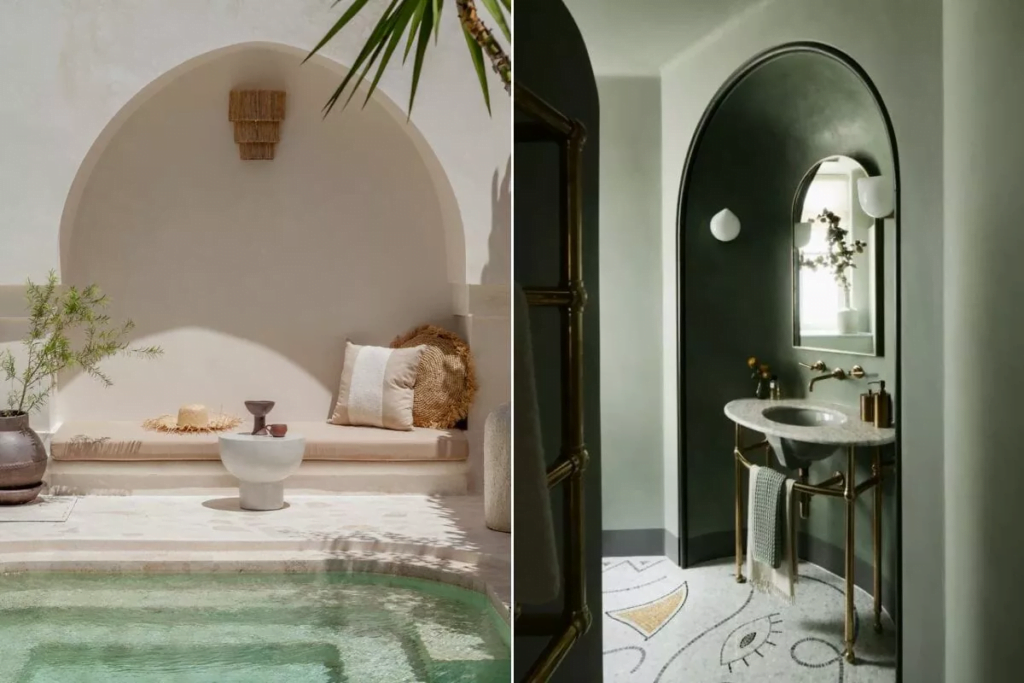 In the past, alcoves and niches were popular for displaying art, particularly sculptures, during the Renaissance period. However, over time, these spaces became less popular and were often left unused as dust collectors. Today, alcoves and niches are becoming popular again and can serve multiple purposes, such as saving space, adding visual interest or creating a peaceful area. Regardless of their size, these small spaces can enhance the look of any decor or furniture placed within.
11. Oversized Pendants
Playing with different sizes, scales and ratios can produce very attractive results. The trend of using large lights, whether it was intentional or not, has been a beneficial discovery for designers. Bigger lights are not only eye-catching but also look elegant when paired with other large items in a room. Experimenting with size and scale will help to give many interiors a modern, designer look in the years to come.
12. Perfect Imperfections
In 2023, home decor trends are shifting towards organic, handmade, and locally sourced materials. This trend will result in an increase of one-of-a-kind and distinctive pieces. The future of home decor is characterized by a raw yet polished aesthetic. High-quality craftsmanship and design will make furniture and decor sought-after and fashionable.
Interior Design Color Trends 2023
The colors used to decorate your home will be updated soon, just like a new palette to paint a picture. Some new and some familiar hues will be among the most popular interior design color trends for 2023.
13. Gentle Gold
The earthy and neutral color palette for 2023 will feature a new warm and soft gold tone. This color is inspired by the natural richness of gold as well as the groundedness of sandy hues. It resembles the beauty of a desert landscape at sunset, making it a perfect fit for desert-modern designs. It will also serve as a great alternative and complement to traditional neutral colors.
14. Outdoor-Inspired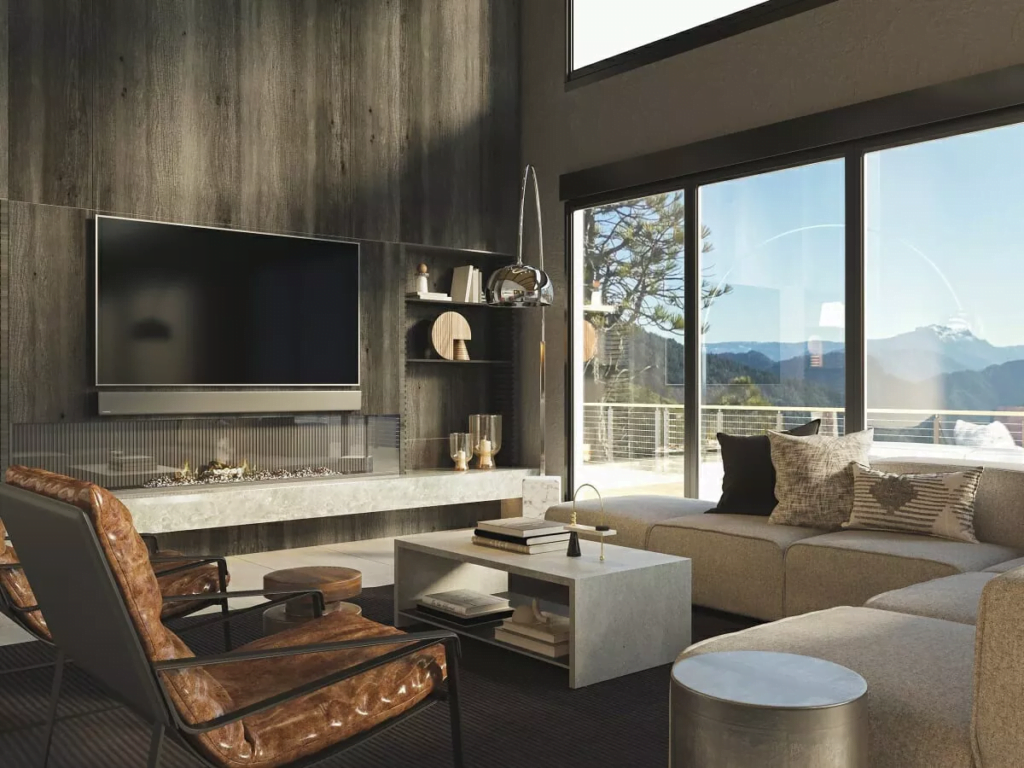 As green design becomes more popular, interior colors are shifting away from artificial shades and moving towards more soothing tones. This creates an environment where interiors blend seamlessly with the outdoors. In 2023 and beyond, we can expect to see more incorporation of outdoor elements into indoor spaces.
15. Of Water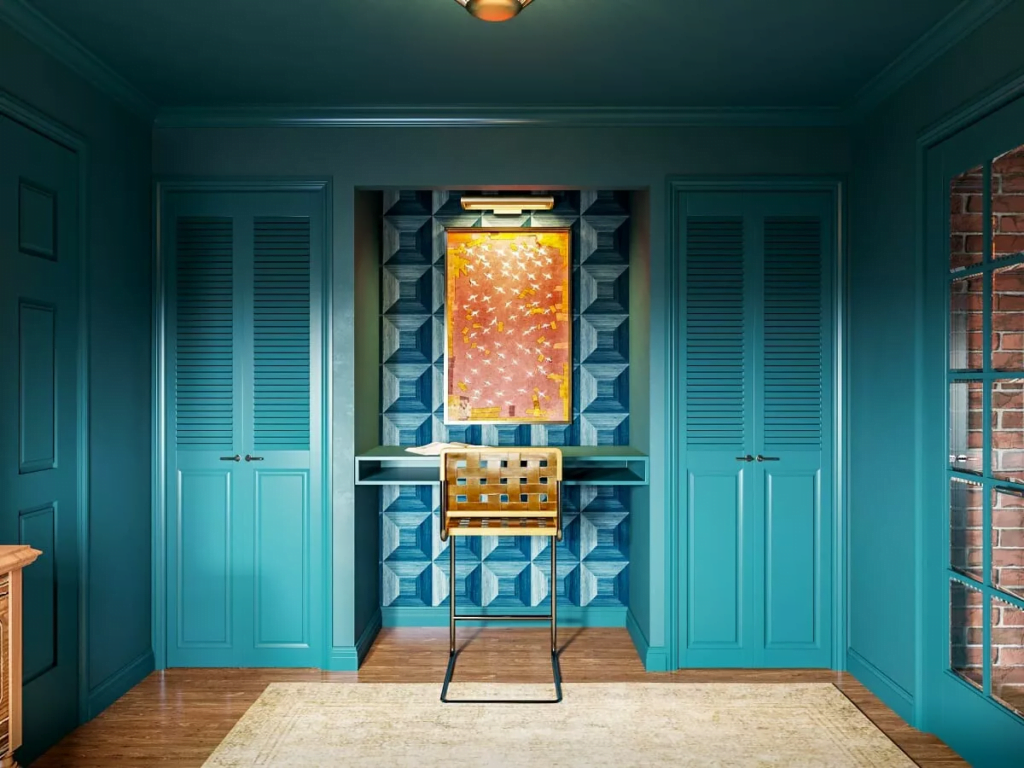 It is clear that the interior design color trends for 2023 are focused on creating a peaceful atmosphere. One of the colors that will be trending is a turquoise-like shade of blue, known as Tranquil Blue. The calming nature of this cool tone makes it ideal for spaces that are intended to be serene, such as studies, home offices and meditation rooms. This color will be widely used in these spaces.
16. Hybrid Blue-Green
Verdigris, a teal-like color from Pantone, is expected to bring fresh energy to interiors in the near future. The name comes from the pigments that form patina on copper. It is a slight deviation from traditional greens like emerald and basil, but it is just as otherworldly. The combination of green and blue in this color creates a balance between the serenity of the sea and the vitality of land, making it perfect for spaces that need to promote focus and upliftment.
17. Futuristic Lavender
Pantone's color of the year, Digital Lavender, has a futuristic name, but it's actually quite inviting. It's a soft purple pastel that will bring new energy to any interior. It's also versatile, it can be used to make a neutral setting more interesting, or it can be the main color in a bedroom as a wall color or bed sheets.
18. Tiered Monochrome
Creating spaces that stand out by using muted furniture and decor is another trend for 2023. A monochromatic interior can be in any single color, featuring slightly different shades of the main color, textures and shapes can create an interesting visual appeal. Using different shades of the same color creates a peaceful and consistent atmosphere.
Green Interior Design Trends 2023
Many of the interior design trends for 2023 focus on sustainability and wellness, which are becoming more and more popular. These eco-friendly styles are not just a passing trend, but are expected to remain popular for years to come.
19. From Outside In
The location of a building has a big influence on the furniture, decor, and overall interior design. Materials that are easily found in a particular area, such as wool, sheepskin, and wood in snowy regions, are being used more often in interior design. Sourcing locally and incorporating elements of the natural environment into the design can create a unique and authentic look.
20. Wellness Flow
The way a room is laid out can greatly impact the atmosphere and overall feel of the space. In 2023, a focus on free-flowing movement and improved traffic flow will be emphasized. This approach, influenced by Eastern design concepts like feng shui and wabi-sabi, aims to create a positive and functional layout. Additionally, incorporating elements of green design and local materials will also be important in creating sustainable and harmonious interiors
21. Indoor Gardening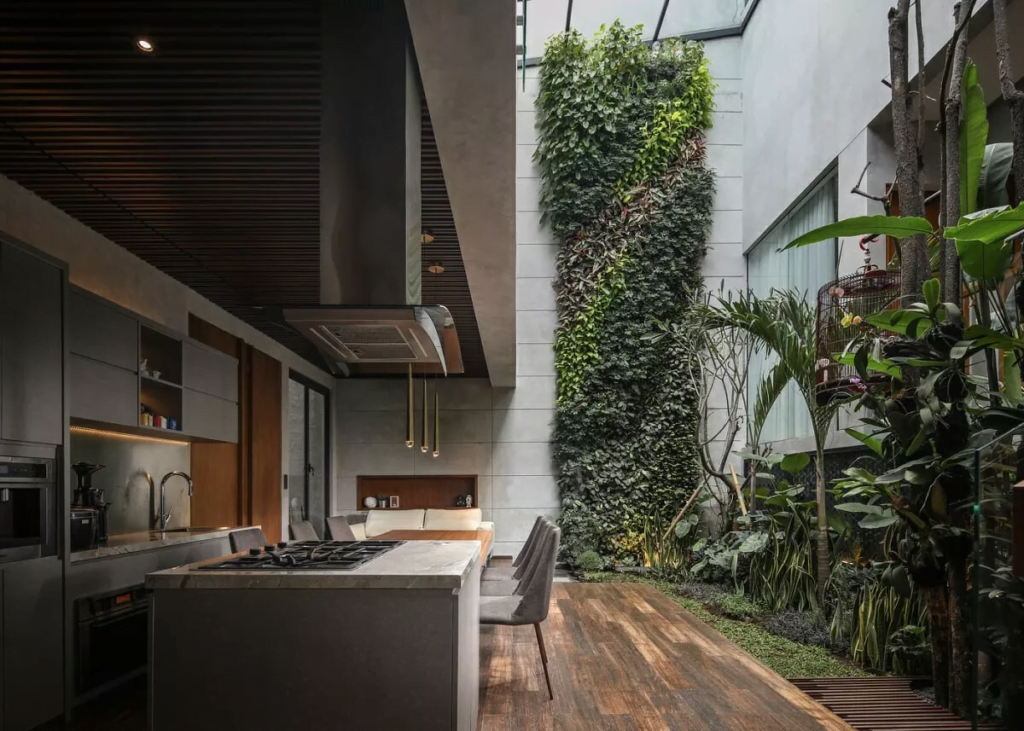 As the trend of indoor-outdoor living continues to grow, the integration of plants in interior design will become even more prominent. Expect to see larger and more diverse types of plants inside buildings, as well as the incorporation of elements like rock gardens and gardens within the structure of the building. Offices and other work spaces are likely to adopt this trend as well.
22. Material Emphasis
In the future, there will be a growing trend in interior design towards eco-friendly and sustainable options. This includes an increase in the use of green materials and organic surfaces in both residential and commercial spaces, as more people become aware of the importance of protecting the planet.
23. Purity in Interior Design
In 2023, a focus on using existing materials and emphasizing simplicity in design will lead to an increase in natural and clean lines in interiors. This trend will also highlight any existing ornamentation or details within a space, creating a balance between minimalistic and decorative styles.
Bringing the latest design trends into your home can be challenging, but with the help of professional designers, it can be done seamlessly. Take advantage of a complimentary budget Consultation to learn more about how to update your home in a timeless way from China.
Discover more